China European international train
On 07 May, 2017 and 26.2 tons of meat products imported from the Netherlands for the first time through the China-European international train arrived in Chengdu railway port.
Is the second time after the import of meat products from Germany in November last year through China-European international train into Sichuan, Chengdu imported meat designated ports for the second time through international rail transport imports of frozen meat.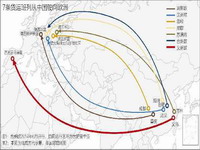 Faster time and lower transportation costs
Sichuan CIQ in accordance with relevant laws and regulations and work procedures to carry out inspection work. After on-site inspection, sampling and delivery after passing.
Imports of meat products again take China-European international train arrived in Chengdu, the designated port of imported meat, marking the inland ports through rail transport imports Eurasian agricultural products to achieve mass normal operation.
The following are the same as the Transport of imported meat has been a bottleneck in restricting trade development.
Sichuan CIQ has held discussions with local governments and enterprises on a number of occasions and reported the situation to AQSIQ.
AQSIQ organization to Russia, Belarus and other countries to make a special consultation, and ultimately solve the EU agricultural products can not pass the Russian transit problem, opened up the Eurasian food safety channel.
The annual demand for imported frozen meat in Sichuan is several million tons. Chengdu imported meat designated ports before the official operation of Sichuan imported meat generally used maritime way, by 45 days or so, and then through the road transport allocated to the various markets within the Sichuan.
At present, the Chengdu railway port has been through China-European international train direct access to imported meat products, time than the sea can save about 45 days, the cost of air savings than $ 1500 / Tons.