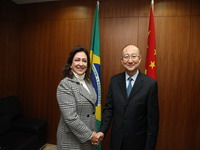 AQSIQ Zhi Shuping in Beijing met with the Brazilian Minister of Agriculture, Ms. Abreu line.
November 17, 2015
The two sides on issues of common concern between the two countries animal and plant products, agricultural trade, inspection and quarantine cooperation talks.
CNCA, AQSIQ clearance Division, Animal and Plant Division, Food Bureau, International Division responsible person and the Brazilian ambassador and other officials attended the meeting.