AQSIQ Announcement No.43 on June 23, 2016 to approval the Bordeaux of 45 affiliated origin Geographical Indication notice.
According to September 5, 2015, signed "Administration of Quality Supervision, Inspection and Quarantine of People's Republic of China and the European Commission Directorate General for Trade Memorandum of Understanding on Geographical Indications".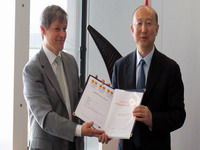 After France Agriculture, Food, Fisheries, Rural Affairs and recommended by the Ministry of Land remediation, France Bordeaux Wine Industry Committee AQSIQ proposed Bordeaux of 45 subsidiary in China to apply for registration of origin protection of geographical indications.
Refer to "geographical indication protection regulations", in accordance with the provisions of "foreign geographical indication protection measures", AQSIQ through technical review. Now approved from now on Bordeaux of 45 affiliated origin Geographical Indication.
Bordeaux subsidiary origin of Quality and Technical Requirements, Bordeaux subsidiary of geographical indications include the following names:
Cotes de Bordeaux)
Barsac
Blaye
Blaye – Cotes de Bordeaux
Bordeaux Haut Benauge
Bordeaux Superieur
Bourg
Bourgeais
Cadillac
Cadillac – Cotes de Bordeaux
Canon Fronsac
Castillon – Cotes de Bordeaux
Cotes de Blaye
Cérons
Cotes de Bordeaux Saint-Macaire
Cotes de Bourg
Entre-Deux-Mers
Entre-Deux-Mers Haut-Benauge
Francs – Cotes de Bordeaux
Fronsac
Graves
Graves Superieures
Graves de Vayres
Haut-Medoc
Lalande de Pomerol
Listrac-Medoc
Loupiac
Lussac Saint-Emilion
Margaux
Medoc
Montagne Saint-Emilion
Moulis-en-Medoc
Pauillac
Pessac-Leognan
Pomerol
Premières Côtes de Bordeaux
Puisseguin Saint-Emilion
Sauternes
Saint-Emilion
Saint-Emilion Grand Cru
Saint-Estephe
Saint-Georges Saint-Emilion
Saint-Julien
Sainte-Croix-du-Mont
Sainte-Foy Bordeaux

      

Author: By Susei Ge on June 28th, 2017 – Update
Posted in: What is aqsiq, aqsiq blog, aqsiq law policy, what is CIQ
AQSIQ blog content: China laws, aqsiq policy, China food safety regulations, etc.
AQSIQ will release the latest AQSIQ trends, you can focus on her Google express your opinion free.