China Customs Notice No.20180507
Recently, Europol released information on its official website that EU police seized 3,600 tons of counterfeit or non-standard foods from the EU market.
The General Administration of Customs of China attaches great importance to this and maintains close communication with relevant EU parties. It requires the EU to ensure that food exported to the Chinese market is in conformity with quality and safety.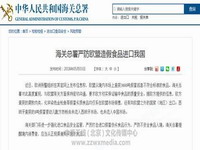 ---
The expired foods were not exported to countries outside the EU.
According to the information provided by the EU, the police discovered that expired and corrupted meat, chemical-stained tuna, and other counterfeit and inferior foods were sold only in the EU market and were not exported to countries other than the European Union.
To date, 8 tons of counterfeit infant formula milk powders seized from Spain have not yet flowed into the Spanish market and have not flowed into the Chinese market.
The Chinese customs department will further strengthen the supervision of imported food safety, crack down on the import of fake and shoddy foods, and prevent the entry of unsafe foods. AQSIQ reminds consumers in China that they should purchase overseas food from formal channels.
Published: May 07, 2018