China – New Zealand Customs "Certified Operator (AEO)" mutual notice
June 23, 2017, China and New Zealand customs officially signed the "Customs of the People's Republic of China and the New Zealand Customs Department on the People's Republic of China Customs and Excise Department credit management system and the New Zealand Customs safety export plan mutual recognition arrangements".
Decided to formally implement the mutual recognition arrangements since July 1, 2017. The relevant matters are hereby announced as follows: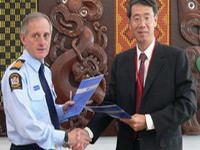 ---
Notice of the General Administration of Customs on 23rd of 2017
On the implementation of China – New Zealand Customs "certified operators (AEO)" mutual recognition of the notice.
1 – according to mutual agreement arrangements, the two sides mutually recognized each other's customs "certified operators" ("AEO enterprises"), for the import of goods from each other AEO enterprises to provide customs clearance convenience. Among them, the New Zealand Customs recognized China Customs's senior certification enterprises for China's AEO enterprises; China Customs approved the New Zealand Customs "safe export plan" members of the New Zealand AEO enterprises.
2 – the two sides of the Customs and Excise Department in the import and export goods customs clearance, each other to give each other AEO enterprises following customs clearance measures: to reduce the document audit and inspection; need to check the goods to give priority to inspection; designated customs liaison, responsible for communication to solve AEO enterprises in The problems encountered in customs clearance; and the rapid clearance of interrupted international trade recovery.
3 – China AEO enterprises to export goods to New Zealand, the AEO business identity information should be notified to the New Zealand importers, by the New Zealand importers in accordance with the provisions of the New Zealand Customs and Excise Department to declare, the New Zealand Customs in the confirmation of China AEO business status, will be given the relevant convenience measures.
4 – Chinese enterprises from New Zealand AEO enterprises to declare the import of goods, the need to declare the "Remarks column" at the company's New Zealand AEO code. China Customs will confirm the New Zealand AEO business identity, will be given the relevant convenience measures.