Fonterra four batches of butter suspected to have been contaminated with E. coli was an emergency recall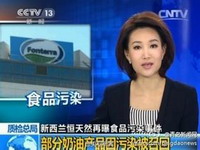 Fonterra announced on January 13th Monday night, said the voluntary recall of some 300 ml and 500 ml bottles of Anchor and Pams brand cream, involving a total of 8700 bottles.
Best date is before these cream January 21, 2014, from the northern region, including delivery to the central Turangi Northland North Island regions, including Gisborne. Fonterra Brands New Zealand executive director Peter McClure said that the reason to take a voluntary recall because of quality tests showed E. coli may be present in the bottled butter.
"We have this recall may cause inconvenience and worries apologize, but food safety and quality is our priority".