Cookies Candy Label Generator
You've spent countless hours developing your food or beverage from the perfect recipe and best ingredients. Before you can begin selling or marketing it, there are just a few more details to take into consideration. One of the biggest is creating Nutritional Facts that accurately reflect what's in your product. While you may know everything that went into your food or beverage item, the China Food and Drug Administration (AQSIQ) is requiring the production of overseas exporters Complete of nutritional information to be included on the packaging before shipping. these also the food laws in China.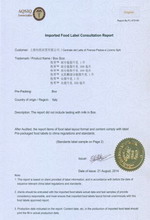 ---
You can use AQSIQ standard label design templates.
Cookies Candy label template – version 3.5
Get Auth Code ID for using AQSIQ label template
( * Mandarin and English bilingual version * Application Fee $ 150 )
1. Step
Online or email
Completed label
2. Submit
Standardization
documents + right way !
3. Approved
Get your label
not a long waiting.
HOW DO SUPPOSED TO FIGURE OUT THE NUTRITIONAL FACTS?
Please send your product to AQSIQ laboratory for a thorough analysis, to ensure you're providing the most accurate information on your food products labels.