US rice export inspection and quarantine requirements
1. Products allowed to be imported
Rice of origin in the United States (including brown, polished and crushed rice, HS code: 1006.20, 1006.30, 1006.40).
2. Exporter production facilities requirements
The United States rice processing plants and export storage warehouses must meet China's phytosanitary requirements, be registered by the United States Department of Agriculture (USDA), and approved and registered by the General Administration of Customs and AQSIQ.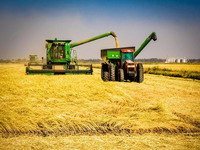 3. Phytosanitary requirements
(A) American rice must comply with US and Chinese phytosanitary laws and regulations, and be inspected and qualified in accordance with official US phytosanitary procedures.
(B) American rice must not carry the following quarantine pests: Pharaxonotha kirschi, Tribolium audax, Trogoderma anthrenides, Trogoderma granarium, Trogoderma sternale, Trogoderma versicolor.
(C) American rice must not contain soil, and must not be mixed with rice husk, bran, weed seeds and other plant residues.
4. Phytosanitary certificate requirements
Each batch of US rice should be accompanied by a US official phytosanitary certificate. The phytosanitary certificate should have the following additional information: "The rice certified by the phytosanitary certificate complies with the provisions of the Protocol on American Plant Phytosanitary Requirements signed by China and the United States in Washington on July 19, 2017."
5. packaging requirements
U.S. rice must be packaged in clean, hygienic, new, and easily fumigated materials that meet Chinese phytosanitary requirements. Each package should have the obvious Chinese characters of "This product is exported to the People's Republic of China" and Chinese information that can identify the type of rice, the name of the processing plant and exporter, the address, and the rice variety. The above information can be attached to the package in the form of a label.
6. Fumigation requirements
The US rice should be fumigated before export to ensure that the rice does not contain live insects, especially storage pests, and a fumigation certificate should be attached.
7. Transportation requirements
Before shipment of US rice, the transportation means must be thoroughly inspected. If pests or other quarantines of concern are found therein, they will be prohibited from being used for shipment until the pests or quarantines are completely removed, or other transportation means that meet the quarantine requirements will be used instead.