Vietnam against Chinese goods transit promulgation of the new policy.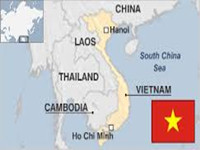 Vietnam's Ministry of Industry and Trade issued a notice on the goods in transit and transit cargo transport licensing procedures were prescribed.
The notice stipulates that the import and export of goods prohibited and shall suspend transit Vietnamese territory before the transit of goods to obtain permission to rest after the Ministry of Industry and Trade.
Allows goods to transit ports are: Street – estuaries, friendship – Friendship Gate, Mong Cai – Dongxing, with Gordon – Pingxiang, the other to open the port for an international agreement by the Vietnamese government and the Chinese government.
The circular also stipulates that transport cargo from Vietnam to China transit transport workers, according to existing laws and regulations.
By the Chinese import and transit cargo transportation vehicles, Transportation import port where the province should get, technical security and transportation sectors temporary license plates issued by the department of municipal public security issued by the Environmental Protection inspection license. 9 The following shall not be manned vehicle car transit Vietnamese territory.
The owner or carrier shall submit and present a customs transit permit issued by the Ministry of Industry and Trade, transit cargo transportation contracts and various other documents required by law to be submitted.
Except for an extension of time provisions, the transit of goods from the port to handle import customs formalities completed, the residence time in Vietnam up to a maximum of 30 days. Goods in transit may not be sold in Vietnam. Sales of goods in transit special circumstances required to obtain permission from the Ministry of Industry and Trade.
The notice July 20, 2015 entered into force, to obtain a license before publication notice remain valid.