AQSIQ RECYCLING LICENTIE
License of Registration for Overseas Supplier Enterprise of Imported Scrap Materials - AQSIQ Notice No. 98
Applicants should submit the following documents:
1- In accordance with AQSIQ standard applications fill (overseas supplier recycle materials registration application form)
2- Your company business registration and Tax registration documents (copy)
3- Office and warehouse or factory floor plan paper and photos (original)
4- You corporate environmental quality assurance system documentation or ISO 9001 certificate (copy)
5- Other can prove that your company has a good reputation document (original)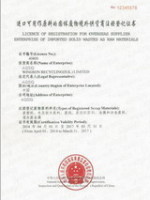 If you do Recycling business to China, as Waste Paper,Plastics,Metal or Textiles recycle material.
In order to strengthen the management and the supervision of inspection and quarantine for imported scrap materials, According to AQSIQ Notice No. 98, If the HS code of your product is on the as follows list, you are required to apply for an AQSIQ recycling certification.
H.S Code
74040000.90, 75030000, 76020000.90~10, 79020000
720410, 12, 21, 29, 40, 41, 44, 45, 49, 8002~81083000.