Impartial and authoritative
AQSIQ laboratory boasts the ability to issue (GB-CHINA) Laboratory certificates to companies and individuals exporting food and feed products to the Republic of CHINA.
AQSIQ laboratory in 2002 became the first official laboratory to be approved by the China Food & Drug Administration to test for pesticide residues and Food Microbiology, this scope was broadened in 2009 to include testing and certification in the fields of nutrition, food supplements, and Food Chemistry Analysis.
The benefit of AQSIQ laboratory 's scope of accreditation are more security:
Exporters can now rest assured that their cargo will be accepted at china ports of entry because AQSIQ standards have been met,
China consumers will have peace of mind knowing that their food products are safe and compliant with china food labeling standards,
AQSIQ laboratory issued of test report with chinese version will be recognized in every port of CIQ China.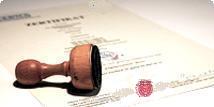 You aim to demonstrate the quality, safety efficiency and reliability of your products.
Open up new markets.
Enhance consumer confidence.
Make your products stand out from the rest.
Provide guidance for customer choice.