AQSIQ Recycling License
License of Registration for Overseas Supplier Enterprise of Imported Scrap Materials - China Customs and AQSIQ Notice No. 91
Applicants should submit the following documents:
1- In accordance with China Customs and AQSIQ standard applications fill (overseas supplier recycle materials registration application form)
2- Your company business registration and Tax registration documents (copy)
3- Office and warehouse or factory floor plan paper and photos (original)
4- You corporate environmental quality assurance system documentation or ISO 9001 / RIOS certificate (copy)
5- Other can prove that your company has a good reputation document (original)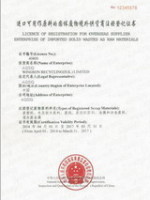 ---
If you do Recycling business to China, as Waste Paper, Metal, Steel, copper and Non-ferrous metal..
In order to strengthen the management and the supervision of inspection and quarantine for imported scrap materials, According to China Customs and AQSIQ Notice No. 91, If the HS code of your product is on the as follows list, you are required to application for an AQSIQ recycling certification, Approved companies will be published in the AQSIQ database.
Wood and cork waste:
| Product Name | H.S Code | Description |
| --- | --- | --- |
| Waste wood | 4401310000 | Wood chip stick |
| Waste wood | 4401390000 | Other sawdust, wood scrap and debris |
| Waste wood | 4501901000 | Cork waste |
Metal and metal alloy waste:
Product Name
H.S Code
Description
Gold scrap
7112911010
Gold scrap
Gold scrap waste
7112911090
Except for other precious metals
Platinum or platinum-coated waste
7112921000
Except other precious metals,
Mainly used to recover platinum
Scrap steel
7204100000
Cast iron waste
Scrap steel
7204290000
Other alloy steel scrap
Scrap steel
7204300000
Tinned steel scrap
Scrap steel
7204410000
Steel scrap generated during machining
Scrap steel
7204490090
Other steel scrap
Scrap steel
7204500000
Crushed steel ingots that can be smelted again
Copper waste
7404000090
All copper waste
Nickel scrap
7503000000
All Nickel scrap
Aluminum scrap
7602000090
All Aluminum scrap
Zinc scrap
7902000000
All Zinc scrap
Tin scrap
8002000000
All Tin scrap
Tantalum scrap
8103300000
All Tantalum scrap
Metal and metal alloy waste:
(material in metallic and non-loose form, non-loose form means: does not include solid wastes that are powdery, silty, dusty or contain hazardous liquids)
| Product Name | H.S Code | Description |
| --- | --- | --- |
| Stainless steel scrap | 7204210000 | All Stainless steel scrap |
| Tungsten waste | 8101970000 | All Tungsten waste |
| Magnesium scrap | 8104200000 | Al Magnesium scrap |
| Bismuth scrap | 8106001092 | No smashed bismuth scrap |
| Titanium scrap | 8108300000 | All Titanium scrap |
| Zirconium scrap | 8109300000 | All Zirconium scrap |
| Germanium scrap | 8112921010 | Unforged germanium scrap |
| Vanadium scrap | 8112922010 | Unforged Vanadium scrap |
| Niobium scrap | 8112924010 | All Niobium scrap |
| Hafnium scrap | 8112929011 | Unforged Hafnium scrap |
| Gallium and rhenium scrap | 8112929091 | Unforged Gallium and rhenium scrap |
| Tungsten scrap | 8113001010 | Particulate or powdered waste tungsten carbide |
Paper and cardboard:
Product Name
H.S Code
Description
Waste Paper
4707100000
Recycled (waste) unbleached cowhide, corrugated or cardboard
Waste Paper
4707200000
Recycling (waste) bleached chemical wood pulp paper and paperboard (not
Dye by body)
Waste Paper
4707300000
Recycling (waste) mechanical wood pulp paper or cardboard (for example,
Waste newspapers, magazines and similar prints)