FOOD REGISTER
Foreign Food Exporters Required to List with AQSIQ policy from 01 October, 2015
According to AQSIQ Notice Foreign food exporters registration, all Foreign food producers, agents and domestic consignees are required to file their company information online with the Bureau of Import and Export Food Safety of AQSIQ, China's General Administration of Quality Supervision, Inspection and Quarantine of the People's Republic of China. This requirement comes into force with effect from 01 October,2015 and renewal annually in AQSIQ.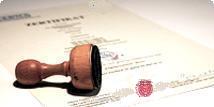 The Notice implies that any exporter / agent shall submit a filing application to AQSIQ before they export food to CHINA. Exporters shall fill and submit the application form of Food Exporter through the registration filing management system. Information, such as the exporter and agent's name, country, area, address, contact name, telephone, food category, etc. needs to be submitted. After submitting the application, the exporter will obtain a registration number by the AQSIQ.
---
REGISTRATION FOOD CATEGORIES
meat, egg (and egg products), aquatic products (and preserved aquatic products), traditional Chinese medicinal materials, grains, cereals (and cereal products), grease and oil, soft drinks and beverages, sugar, vegetables (and vegetable products), flavouring ingredients of plant origin, dried fruits and nuts, other foods of plant origin, canned foods, dairy products, bee products, liquor and alcohol, pastry biscuits and crackers, candied (preserved) fruit, cigarettes, tea, flavouring ingredients, other processed fruit, food for special dietary purposes.
A CORRECT APPLICATION PROCEDURES
AQSIQ will keep a file of applications of exporters who have submitted complete filing information. A list of filed exporters and agents with their names and countries / regions shall be generated by the AQSIQ registration management system and made public on AQSIQ website..
The application form accessible from the site is currently only available in Chinese. To help Foreign Food Exporters companies who wish to register themselves, the AQSIQ Association has prepared an unofficial translation of the application form. To receive a copy, please email to info@aqsiq.net