New market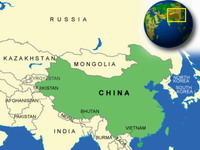 China is a member of the WTO and is the world's largest trading power, with a total international trade value of US$3.87 trillion in 2012. Its foreign exchange reserves reached US$2.85 trillion by the end of 2010, an increase of 18.7% over the previous year, making its reserves by far the world's largest. In 2012, China was the world's largest recipient of inward foreign direct investment (FDI), attracting $253 billion.China also invests abroad, with a total outward FDI of $62.4 billion in 2012, and a number of major takeovers of foreign firms by Chinese companies. In 2009, China owned an estimated $1.6 trillion of US securities, and was also the largest foreign holder of US public debt, owning over $1.16 trillion in US Treasury bonds.
China ranked 29th in the Global Competitiveness Index in 2009, although it is only ranked 136th among the 179 countries measured in the 2011 Index of Economic Freedom. In 2014, Fortune's Global 500 list of the world's largest corporations included 95 Chinese companies, with combined revenues of US$5.8 trillion. The same year, Forbes reported that five of the world's ten largest public companies were Chinese, including the world's largest bank by total assets, the Industrial and Commercial Bank of China.
China's middle-class population (if defined as those with annual income of between US$10,000 and US$60,000) had reached more than 300 million by 2012. According to the Hurun Report, the number of US dollar billionaires in China increased from 130 in 2009 to 251 in 2012, giving China the world's second-highest number of billionaires. China's domestic retail market was worth over 20 trillion yuan (US$3.2 trillion) in 2012 and is growing at over 12% annually as of 2013, while CHINA luxury goods market has expanded immensely, with 27.5% of the global share.
AQSIQ LICENSE MEET INTERNATIONAL AND FOREIGN STANDARDS
AQSIQ License meet international and foreign standards, making it easy for different areas of business to establish relationships and facilitate trade around the world. The certifications help bolster the industry's reputation around the globe and open access to global commodity markets.
MORE DURABLE COMMERCIAL
Apply for AQSIQ licenses, enabling trade with new market at China .
Adhere to technical guidance established by the UNEP Basel Convention.
Adopt environmentally sound management (ESM) practices.
Achieve the six core performance elements established by the Organization for Economic Cooperation and Development (OECD).
Do you know a clear application process in AQSIQ?