Due to strong demand from China and the expansion of production capacity of the Australian dairy producers may face the problem of excess global supply
AQSIQ Reported that in April this year, the Canadian heavyweight dairy suppliers Sapp much acquisition of Warrnambool Cheese & Butter Company , in this transaction, this Victorian dairy company valuation exceeding $ 500 million.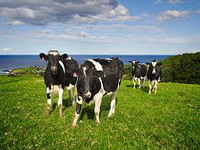 Price increases lead to investment
The 2013 price increases lead to investment cows and nutritional supplements increased, global dairy exports ranked first in New Zealand, this year's production will be expanded peak. Goldman Sachs said the 2018 global dairy production will be more demand for 2 billion liters. This is enough to fill 800 Olympic race pool.
Reported that the Australian dairy producers attempted to seize the Chinese market, but the discovery in recent years of development to make this operation more difficult.
Beef and beef products must be derived from cattle less than 30 months of age.
Melbourne Rabobank (Rabobank) analyst Harvey (Michael Harvey), said the market brought about by competitive pressures. Before market prices need to consume a lot of milk.
Dairy Australia (Dairy Australia) expects 2014-2015 year, Australia's four major exporter of butter and cheese production will increase by 2%.