Your company are ready with New Challenges and Opportunities for Exporting Baby Formula to China?
in AQSIQ official data, that China is already the world's largest importer of dairy products and is a huge and booming market for baby formula. With birth rates topping 16 million every year, the demand for baby milk powder never declines. What makes the market even more attractive is the impending baby boom, precipitated by the Chinese government's recent amendment of the "one-child policy" which will allow a couple to have a second child if one parent is already an only child. Estimates show that the in the next five years, around 2-3 million more infants will be born each year, which will drive new demand for milk powder.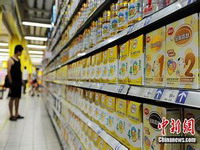 China's major metropolitan and economic hubs in Guangzhou, Shanghai, Beijing etc. Host a large population demographic which are both eligible for a second child and have the financial capacity to purchase premium imported milk powders. The poor reputation of Chinese milk products also creates opportunities for foreign manufacturers and exporters to grab a greater share of the huge market. At present, the high-end milk powder market in China has been dominated by Mead Johnson, Dumex, Wyeth, Nestle and Abbot. In 2012, the total market share of the top five foreign players reached 60%, while domestic producers, represented by Yili, Beingmate, Shengyuan and Yashili occupied the remaining 40%. Baby formula companies located in countries such as Ireland, Holland, Germany, Australia, New Zealand, etc. are expanding exports to China to meet the growing need of Chinese consumers.
However, imports foods including infant formula is never an easy task as there are numerous Chinese regulations and national standards to comply with. From Jan to May this year, over 36 tons of milk powder were deemed as substandard by local CIQs and subsequently destroyed or rejected . The possible reasons include unqualified labels, lack of required documentation as well as unsatisfactory levels of coliform, chromium, zinc, iron, nitrite, lauric acid, myristic acid, copper, selenium, protein and sodium.
2014 is a regulatory reform year for dairy products with a new requirements introduced. With the implementation of Administrative Measures on Inspection, Quarantine and Supervision of Import and Export Dairy Products from 1 May, overseas manufacturer, exporter / agent and domestic importer / consignee of baby formula are faced with increased requirements.
Registration of overseas manufacturer
A new obligation for overseas manufacturers of baby formula is that they are now required to register with AQSIQ before 1 May 2014, otherwise the Chinese market will essentially be closed to their products. Foreign manufacturers should meet the conditions and submit documents specified in Administrative Provisions on Registration of Overseas Manufacturers of Imported Foods.
China's Regulatory Environment for Imported Baby Formula Filing of exporter / agent
Exporters or agents need to file information with AQSIQ through the Filing Management System in line with Administrative Provisions on Filing of Importers and Exporters of Imported Foods, It is necessary to input information such as name, country / region, and the address of exporter or agent, and contact name, telephone, food category of operation, contractor name, telephone etc., so that relevant people can be reached through in case of an emergency.
Baby Formula testing report
Foreign producers should provide a testing report with all mandatory testing items listed in relevant national standards. For instance, the specific product standard for infant formula in China is GB 10765-2011, which sets out requirements for raw materials, physical and chemical indicators, health indicators and so on. Physical and chemical indicators include those of protein, fat, carbohydrate, vitamin and minerals, etc. The health indexes refer to limits for contaminants, mycotoxins and microorganism, etc. Totaling more than 60 items should be tested according to corresponding national testing standards.
The testing report issued by the overseas official food labs, the third party, enterprises' own labs and domestic accredited labs are all acceptable. The inspection and quarantine for baby formula is extremely strict. Every batch of baby milk powder is subject to random sampling. Samples will be sent to a lab for testing which normally lasts for a period of approximately 1 month and cost about 875 USD for each ingredient content.
Label of imported baby formula
Imported products must bear Chinese labels. From 1 Apr of 2014, Chinese labels should be already printed on the minimum sales packaging when products arrive at ports. The size of words on labels also matters because if it is too small it is necessary to amend the label.
In general, the label should contain the following information: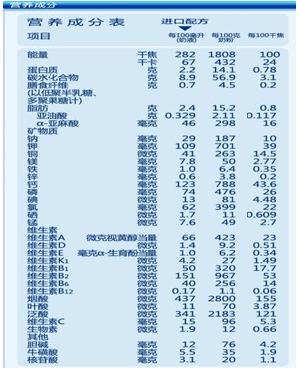 Baby formula exported to China must be prepackaged outside of China and ready for retail instead of being transported into China and stored in large containers for later sub-packaging. In the past, many domestic factories imported milk powder in bags falsely declaring them as "imported with original packaging ".
The integrity and sanitation of large containers are not as stable as single cans so it is hard to ensure the safety of contents during long-distance transportation. After they arrive in factories, the containers must be opened for repacking or re-blending with additional ingredients during which there is a high risk of exposure to airborne pollutants. What makes the situation worse is that in the past some unethical companies deliberately adulterated products with harmful substances.
Do you want for your Baby Formula exports to China to do all of the application process ?