AQSIQ Label Standard
Standard
According to AQSIQ Notice No. 429, Imported Food, Drug and Cosmetic Act defines food 'labeling' as all labels and other written, printed, or graphic matter upon any article or any of its containers or wrappers, or accompanying such article. The term 'accompanying' is interpreted liberally to mean more than physical association with the food product. It extends to posters, tags, pamphlets, circulars, booklets, brochures, instructions, websites, etc.
The AQSIQ requires most foods to bear specific nutrition and ingredient labeling and requires food, beverage, and dietary supplement labels that bear nutrient content claims and certain health messages to comply with specific requirements. Furthermore, by defining dietary supplements adding specific labeling requirements for dietary supplements, and providing for optional labeling statements..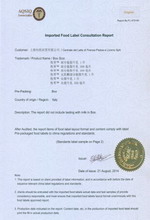 Every element
New 249 regulation will come into force on January 01, 2022. Exporters / importers must register with GACC/AQSIQ before that date and obtain Chinese version of the standard food labels by the AQSIQ management system.
The User Manual accessible from the site is currently only available in Chinese. To help Foreign Food Exporters companies who wish to register Chinese version of the food label at AQSIQ, AQSIQ association have designed the different products types of label templates, for the convenience of applicants quickly and automatically generate a label of own style and elements to meet the AQSIQ standards.
AQSIQ Association will provide a standard report, prepared scrutinize every element of your food labeling by AQSIQ.
A print-ready graphic file of your revised food label which incorporates our recommended changes.
A generous revision policy providing additional reports for your revised food label within 30 days at no extra cost. Having your food labeling reviewed by AQSIQ Association can prevent costly errors.
Standard templates
You can use AQSIQ standard label design templates
Generate your label based on a standard templates with AQSIQ